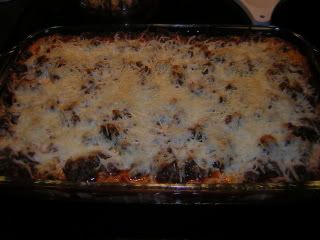 12oz spaghetti noodles
8oz sour scream
8oz cream cheese (softened)
8oz cottage cheese
Regular jar spaghetti sauce
Onions, peppers, mushrooms, chopped (optional)
(easy way is to buy spaghetti sauce with these already in it)
Ground beef, as desired
1 pkg. pepperoni
Mozzarella cheese, as desired
Parmesan cheese
Salt and pepper
Spray large baking dish with cooking spray. (I used a glass 9x13)
Cook Noodles and layer in bottom of dish.
Mix cream cheese, sour cream, and cottage cheese. Salt and pepper as desired.
Layer spaghetti sauce, onions, peppers, mushrooms, pepperoni, and ground beef.
Top with mozzarella cheese and sprinkle with parmesan cheese.
Bake at 350 degrees for 30-45 minutes or until hot and bubbly.
This casserole is awesome and my kids loved it too! I found the recipe in a book that was put together by the Tennessee Farm Bureau Women. I think this would be good to make if you are having extra people over for dinner. For my family (2 adults and 5 kids over 5 years old), this could be made into 2 meals. When making the casserole, split it into 2 8x8 or 9x9 pans. Eat one for dinner and put the other into the freezer.